Precision Bevel spent time during the second quarter completing projects that could best showcase the unique capabilities of the FasRapid LGA 3000 II beveler.  We have assembled a photo and video catalog of "Before and After" case studies that we look forward to posting here over the next several months.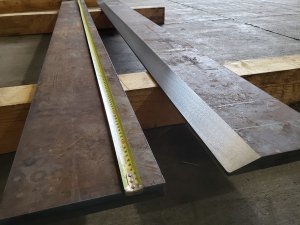 Our first "Before and After" study came to us from a client looking to bevel  earth moving equipment blades.  The plate was 1″ inch thick, 8 feet long AR400 material.  The client requested a very steep 70 degree bevel angle. For Precision Bevel, this was the perfect part to bevel on the FasRapid beveler due to the combination of hard material, steep angle and length of the part.
The FasRapid beveled the plate quickly and more cost-efficiently than any other process (i.e. milling or torch cutting) that we could imagine for a part of this length.  The ceramic coated grinding belt, which oscillates to improve grinding belt life, moves on a rail system, beveling the armor plate in just a few passes.
Take a look at our project pictures and videos, bring your part and drop by for a demonstration. Call or email us so we can explain the capabilities of the FasRapid in more detail. Its precision and efficiency are one of a kind for small and large pieces of any kind of metal.